Does your garage need a little organizing? In this article, I'll reveal the best tips and ideas for DIY garage storage and organization and review some versatile products to get your garage in shape!
Does Your Garage Need a Few Organization and Storage Ideas?
A messy, disorganized garage is the scourge of the modern home. We have so many tools, toys, and accessories that finding the right space to store them can be tough. The garage ends up being a dumping ground for all our gadgets, making both the gadgets and the garage inaccessible.
Trouble is, once our garage gets to this state, tackling the disorder can seem like a daunting task but doesn't have to be. Using the right garage organization tips and ideas coupled with some innovative storage products can turn your garage into a functional, efficient space.
Garage Organization Bliss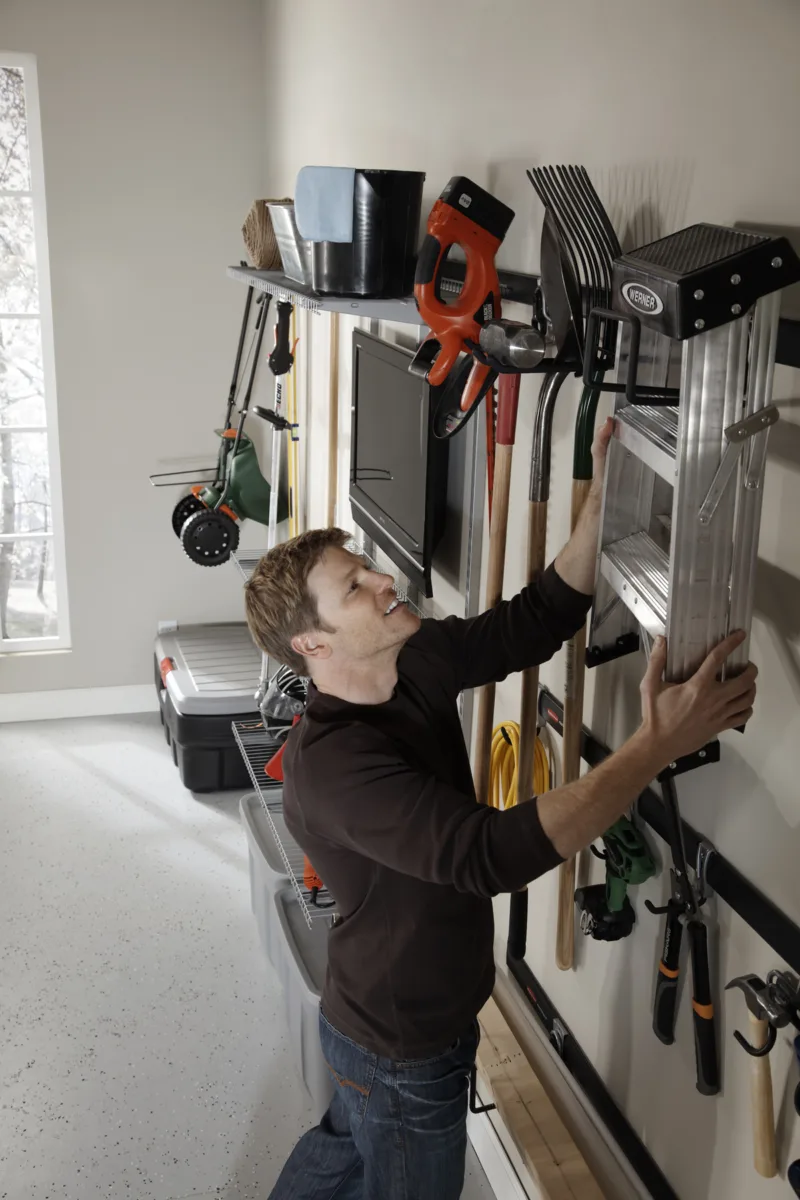 What are The Best Tips and Ideas for DIY Garage Storage and Organization?
Is your garage in need of a few organization and storage ideas? Hey, it's not the garage's fault. The problem is, when we first move into a home, the garage is empty, having no shelves or storage units.
We quickly fill it with all our stuff and then move into the rest of the house, leaving the garage with all the leftovers, and it never really recovers. Now it's full of random stuff and so we just keep piling it on until we can't access half of it.
Not to worry, this happens to everyone, just keep reading…
Garage Organization Ideas: Purge And Eliminate
One of the first and best garage organization ideas is to begin by choosing a sunny day, opening the garage door, and completely emptying the entire space. This provides the opportunity to do two things.
One; clean out the garage. Get a broom and deal with any cobwebs in the corners, vacuum under any work benches and shelves, then sweep out the entire area. Once the garage is clean and organized, keeping it clean will be much easier.
Two; now that all your possessions are in the driveway, purge and eliminate. Go through and dispose of anything that is broken, and donate or recycle anything you have duplicates of or haven't used in the last year.
For example, do you really need that rake with all the broken tines? Are you going to replace the broken axe handle when you have a new one already?
Get rid of the old and rusty, and keep good and useful. This initial purge will set you well on your way to applying the following garage storage ideas.
Vertical Storage: One of The Best Ideas for Garage Organization
When you go to the library, are the books on the floor? How about the auto supply shop? Are the parts on the floor, or are they stored vertically up where you can see them? Just about anywhere things are properly stored, you find vertical storage.
Not only does it display better in a retail setting but it simply uses the available space in a much more efficient manner allowing so much more to fit into a given space.
Plus, once it is stored vertically, all that stuff becomes accessible because you can walk through it. These same storage and organization ideas need to be applied to our garage.
Bike Hooks – Great Storage Ideas in the Garage
One of the most common garage clutter problems is that of the family bicycles. Not only do they take up a lot of floor space because of their shape, but they soak up more space as they lean over on their kickstands.
And, if your family is like mine, not only does everyone have their own bike, but we still have three extras from when the kids were younger that we keep for visiting friends – and small bikes rarely have kickstands, so they end up lying on the floor soaking up even more space.
One of the best garage storage ideas is to hang bikes vertically using proper ceiling or wall-mounted hooks. My favorite for adult bikes is ceiling-mounted hooks like these Capri hooks.
After drilling a small pilot hole, these types of hooks will hand screw into ceiling joists (for adult bikes) and wall studs (down low for the kids' bikes) creating instant smart bicycle storage.
The large open hooks will fit almost any bike tire, even the fat downhill tires on your mountain bike. Constructed from galvanized steel, they won't rust and are soft rubber coated so they won't slip, and they won't scratch the paint on your prized ride.
Their 105 lb. capacity will hold even the heaviest bikes, and also makes them great for hanging other tools and goodies.
Getting all the bikes off the garage floor with hooks like these is probably the easiest of the garage storage ideas.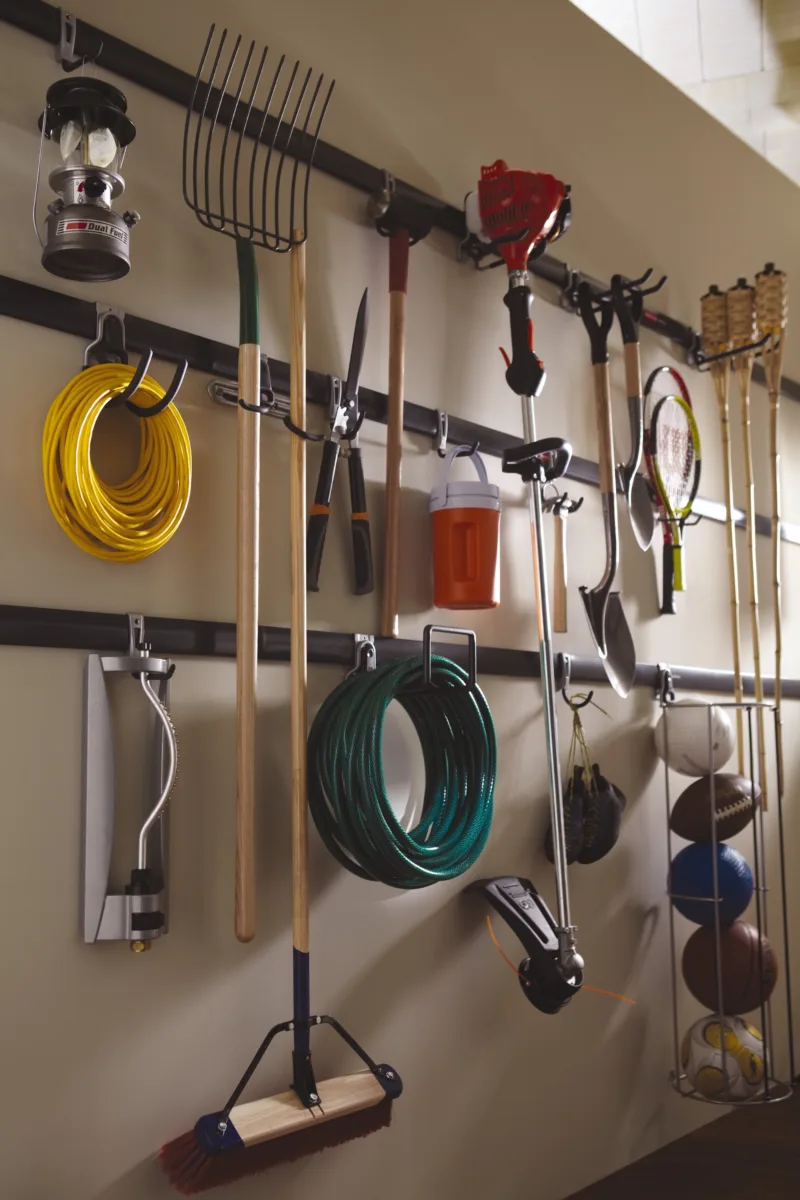 Wall Storage Ideas: Hooks for DIY Garage Organization
Along with getting the bikes off the garage floor, another of the garage organization and storage ideas is to get the rest of your tools and toys also stored vertically – and having the proper wall hooks makes it happen. But not all wall hooks are created equal.
First off, hooks need to be strong and durable. Second, they need to lie flat against the wall when not in use. This makes your garage wall so much more versatile. Picture yourself trying to lean some plywood against the wall with a bunch of various hooks sticking out; it just doesn't work.
Lastly, wall hooks need to give your garage optimum flexibility to neatly store a wide variety of tools.
Some of the best storage ideas I've seen for garage versatility are collapsable wall hooks like these from Rubbermaid. When they're not holding a tool, they automatically fold flat against the wall. This smart "swing out" design also gives them the ability to hold a wide range of tool sizes.
They are great garage organization ideas because they can be direct mounted into the wall stud or used with a sliding track system, so you can move them around making the most efficient use of available wall space.
Garage Organization Ideas: Wall-Mounted Track Storage Systems
Adding storage ideas like a garage-wall-mounted sliding hook system is the final piece to total wall mounting versatility. Track ideas like these give you the garage organization flexibility to move your hooks anywhere along the wall and hang your treasures in any configuration.
They are designed with pre-drilled mounting holes for both 16 and 24-inch stud spacings and are nickel powder coated, so they look sharp and won't rust. Once the track is installed, all the accessories just snap on and off by hand, with no further mounting required.
As your tool collection grows, so will your storage requirements. Sliding hooks like these provide you the range of positioning necessary to get all your various tools out from under the tangled pile in the corner and up onto the wall in a clever, ready-to-go manner.
Ideas for Garage Shelving: Maximizing Storage Options
Wall and ceiling hooks take care of the bikes, shovels, rakes, and brooms, but what about the balls & gloves, jugs of oil, washer fluid, spray cans, and hose clamps?
This is where ideas for proper garage storage shelving come in. Strong, portable, and versatile shelving is the solution for getting your treasures up off the floor and stored in a tidy manner that allows you to see and access what you have.
Good garage shelving should always be portable – ideally on wheels – giving you the flexibility to arrange your garage as your organization needs change. Shelving also needs to be flexible in terms of configuration; the shelf heights need to be adjustable according to your needs.
These terribly named, but otherwise fantastic, SUOERNUO shelving units are portable – with locking castors – have fully adjustable shelf heights, are made of chromed steel, and are rated to hold 600 pounds.
They're helpful storage ideas for your garage, in part because the vertical poles are two pieces, giving you the ability to split the shelf into two separate units, plus each shelf has an attachable "backstop" – not always available on similar units – to keep your valuables from falling off the back of the shelf.
These shelves are strong, adjustable, and movable making them essential storage ideas for your garage organization venture.
Ceiling Suspended Shelving: More Ideas for Optimizing Garage Storage
When it comes to storage shelving, one of the best organization ideas for your garage is shelving suspended from the ceiling. Ceiling-mounted shelving gives you the option to maximize storage space that might not otherwise be accessible overtop of other tools and equipment.
Plus, ceiling-mounted shelving is super quick to install and adjust. Once you have the ceiling mounts installed, the rest of the shelves simply hook through hangers.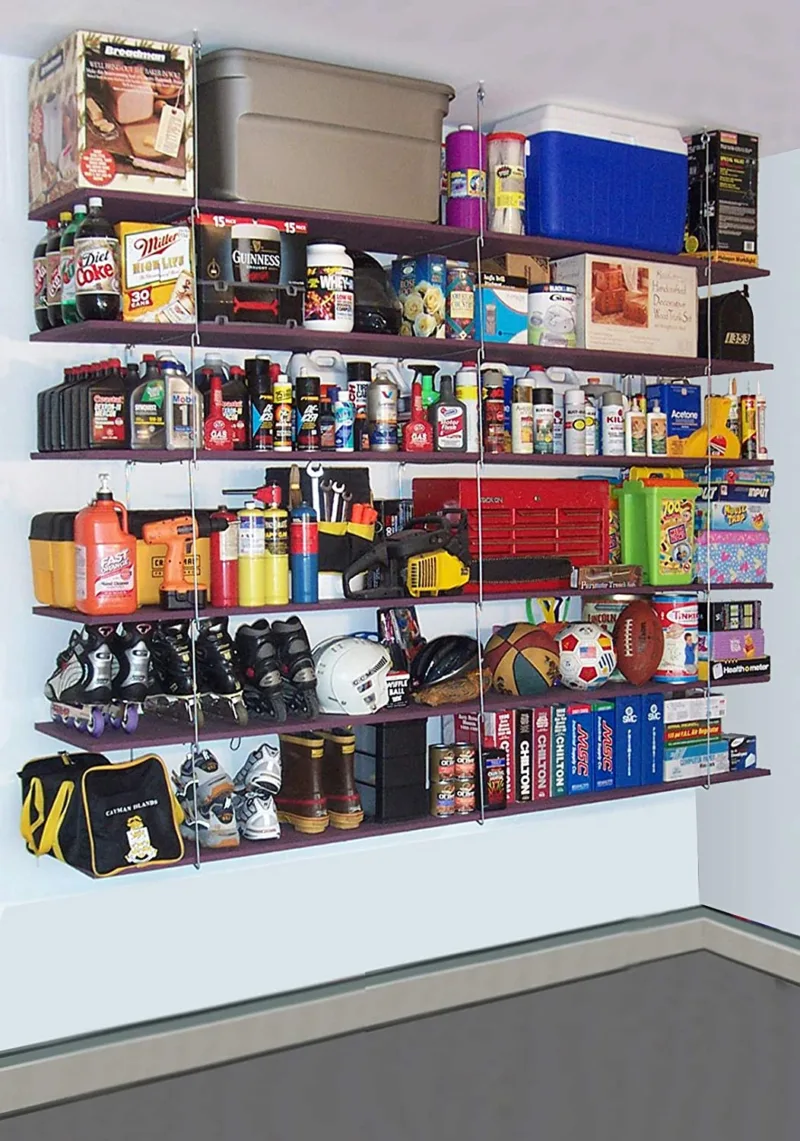 This Quick-Shelf hanging unit can be mounted to your ceiling joists in just about any length and direction you desire. Then, you can make the shelf as tall or as short as necessary by hanging the required number of shelves.
Shelves can be single, double, or even triple in height, and they have a huge weight capacity of more than 1,000 lbs. When not in use, the hangers fold up neatly and take up very little space.
Must Use Garage Organization Ideas: Adaptable Storage Bins
When it comes to ideas for your smaller garage storage needs like rope, tape, or twine, the organization of these into versatile bins on shelving is the answer.
All your assorted nails, screws, tape rolls, paint brushes & cans, jugs of oil, washer fluid & anti-freeze, can all be sorted into bins making them tidy and easy to find.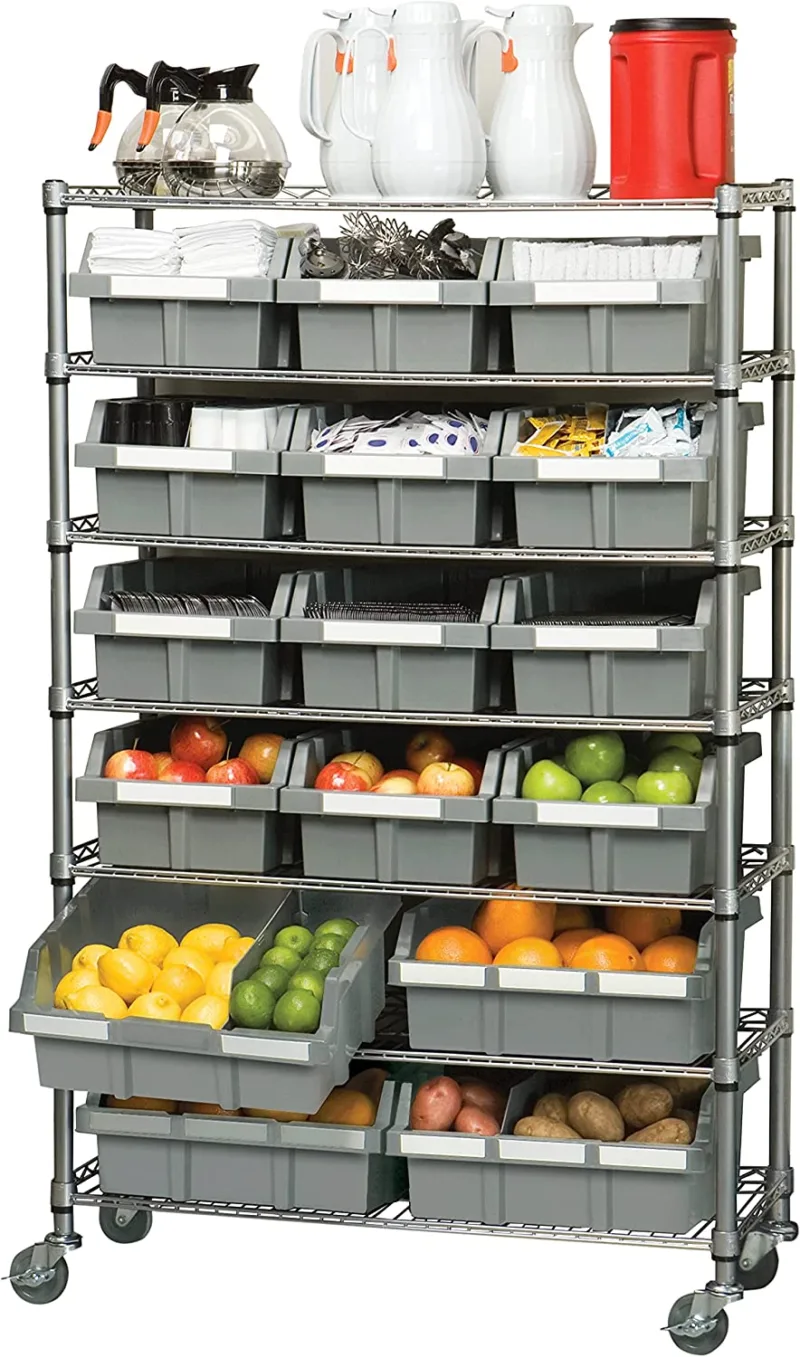 Commercial bin rack systems like this one from Seville are among the best garage storage ideas for these small items. The actual shelving unit is very similar to the previously mentioned unit with chromed steel construction, locking casters, and adjustable shelf heights but comes with 16 various-sized polypropylene bins.
These bins slide in and out of the shelf providing easy access to your goods, plus they lock into the shelf when stored. This unit also comes with bin labels and smart dividers making the bins that much more handy.
Overhead Garage Storage: Ideas for Maximizing Unused Space
Lastly, top ideas to maximize the storage space in your garage include the use of overhead organization options like this one. Overhead storage ideas allow you to use wasted space if you have an over-height garage or unused space above a parked vehicle.
They are prime storage options for all your seasonal gear like camping, boating, and skiing that won't always need year-round access.
Safe-Racks is the industry leader in overhead storage and their units range in size from small to quite large like this 8′ x 4′ unit.
Constructed of powder-coated, steel channel beams, they have a huge weight rating of 1,500 lbs. (but are generally weight-limited to the construction of your garage ceiling, usually 600 lbs.) With adjustable drop-down heights from 24″ to 45″, they will hold just about anything you can think of.
If you are using an overhead storage rack in a high-ceiling garage, one of the best organization ideas is to use the hanging storage under the rack. You can either use your own hooks/ropes or get the accessory package shown here.
This makes a perfect hanging rack for bicycles, ladders, ropes, extension cords, or just about anything else you can think of. Made of the same very high-quality powder-coated steel, this accessory package rounds out your overhead rack optimizing its versatility.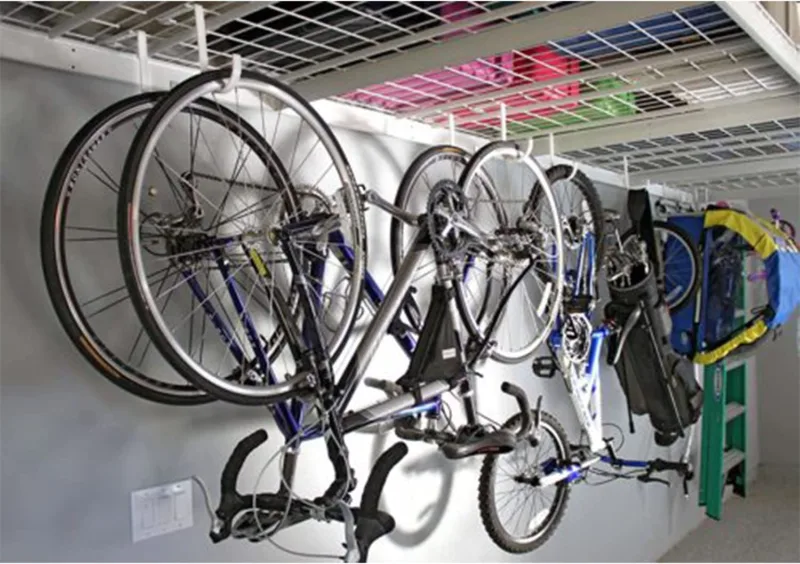 Bottom Line
Organizing your garage can seem like an endless and daunting task, but it doesn't have to be. Employing some of the storage and organization ideas suggested here will go a long way in helping you to get that garage organized once and for all.
While you're at it, if you come across more garage storage and organization ideas, I'm keen to hear them! Please share in the comments section so we can all learn from one another. What solutions have you come up with that worked for you?