When it comes to replacing your old vacuum cleaner with a new one, it's important to properly dispose of the old one. Vacuum cleaners can contain hazardous materials that can harm the environment if not disposed of correctly.
In this article, we will guide you on how to safely dispose of a vacuum cleaner and also provide information on some hazardous materials commonly found in vacuum cleaners.
Hazardous Materials in Vacuum Cleaners
Before we discuss how to dispose of a vacuum cleaner, let's take a look at some of the hazardous materials that might be present in it:
Mercury: Some older vacuum cleaners may contain small amounts of mercury in the switches or other components. Mercury is highly toxic and can cause serious health issues if released into the environment.
Lead: Vacuum cleaner cords and certain components may contain lead, which is also toxic. Exposure to lead can lead to neurological problems and other health issues.
Asbestos: Older vacuum cleaners might have insulation or gaskets that contain asbestos. Inhalation of asbestos fibers can cause serious respiratory problems and even cancer.
Fluorescent Bulbs: Some vacuum cleaners come with built-in fluorescent bulbs, which contain small amounts of mercury. These bulbs need to be disposed of separately, following proper recycling methods.
Checking Your Vacuum Cleaner for Hazardous Materials
Before disposing of your vacuum cleaner, it's essential to check for any hazardous materials it may contain. Here's how you can do it:
Read the Manual: Start by reading the user manual or product documentation that came with your vacuum cleaner. It may provide information on any hazardous materials used in its construction.
Research Online: If the manual doesn't provide sufficient information, search online using the model number of your vacuum cleaner. Many manufacturers provide product specifications and material information on their websites.
Consult a Professional: If you're still unsure about the presence of hazardous materials, consider consulting a professional who specializes in hazardous waste disposal. They can guide you and help you identify any potential dangers.
Different Classes of Vacuum Cleaners
Now that we have covered the hazardous materials aspect, let's discuss the different classes of vacuum cleaners:
L-Class Vacuum Cleaners: L-Class vacuum cleaners are designed to handle low-risk dust and debris. They are suitable for general household cleaning and do not filter out hazardous materials.
M-Class Vacuum Cleaners: M-Class vacuum cleaners provide a higher level of filtration and are capable of handling medium-risk dust and debris. They are commonly used in construction sites and workshops where hazardous materials like silica dust or asbestos might be present.
H-Class Vacuum Cleaners: H-Class vacuum cleaners offer the highest level of filtration and are designed to handle high-risk substances like lead or asbestos. They are typically used in industrial settings and specialized environments where exposure to extremely hazardous materials is possible.
Proper Disposal of a Vacuum Cleaner
Once you have identified and removed any hazardous materials from your vacuum cleaner, you can proceed with the disposal. There are several ways to dispose of your old vacuum cleaner safely and responsibly. Here are some of the options you can consider:
Check Local Regulations
Research the regulations in your area regarding the disposal of electronic waste. Some areas have specific guidelines for disposing of vacuum cleaners, while others may have designated drop-off locations or recycling centers.
Recycling Programs
Recycle it at a recycling center or a hazardous waste disposal site. This is the most eco-friendly way to dispose of your vacuum cleaner, as it can prevent valuable materials from going to waste and reduce greenhouse gas emissions.
Most vacuum cleaners contain plastic, metal, and chemicals that can be reused or recycled to make other products. However, some recycling centers may have limitations on what types of vacuums they accept, so it is advisable to contact them before dropping off the vacuum.
Sell or Donate It if It is Still in Good Condition
If your vacuum cleaner is still working or can be fixed easily, you can sell it on eBay, sell the parts separately, or donate it to a charity that may want it. This way, you can earn some money or help someone in need. You can also check if any local organizations collect old appliances for reuse or refurbishment.
Manufacturer Take-Back Programs
Take it to an electronic store that offers recycling options. Some electronic stores have recycling programs that accept old devices and may even give you credit for them. You can check with the stores in your area and see if they have such programs. You can also use the online search tool on this website to find a nearby center that accepts old vacuums.
Find a Scrap Yard That Will Take Your Vacuum Cleaner or Its Metal Parts
Some scrapyards may pay you for the metal parts of your vacuum cleaner, such as the motor, the cord, or the powerhead. You can search for a scrap yard near your location online. However, you may have to disassemble the vacuum and separate the parts yourself. You will also have to recycle the other components, such as the plastic and the chemicals.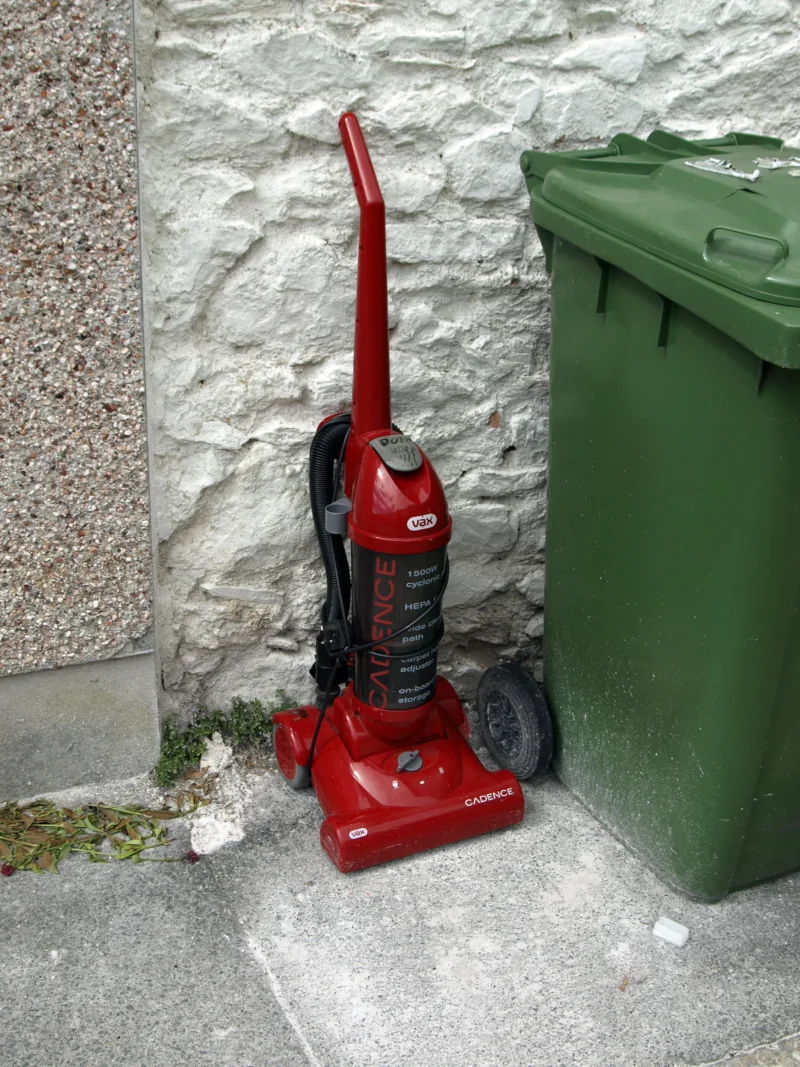 Benefits of Recycling Old Vacuum Cleaner
There are many reasons why you should recycle your old vacuum cleaner instead of throwing it away. Recycling your vacuum cleaner has several benefits:
It reduces greenhouse gas emissions and prevents valuable materials from going to waste in landfills. Vacuum cleaners contain various materials such as plastic, metal, and chemicals that can be reused or recycled to make other products. By recycling your vacuum cleaner, you can help conserve natural resources and reduce the environmental impact of waste disposal.
It puts valuable resources back into the economy. Recycling your vacuum cleaner can also generate economic benefits, such as creating jobs, saving costs, and increasing revenue. According to a report by the EPA, recycling created more than 681,000 jobs, resulted in 37.8 billion in wages, and generated $5.5 billion in tax revenue in 2020. Recycling your vacuum cleaner can also help you save money by avoiding disposal fees or earning some cash by selling the parts separately.
It helps reduce e-waste, save energy, and protect the environment. Vacuum cleaners are considered electronic devices that can contain hazardous substances such as lead, cadmium, or mercury. These substances can cause soil and water contamination, health problems, and wildlife harm if they end up in landfills or are incinerated. Recycling your vacuum cleaner can help prevent these negative effects and also save energy by reducing the need for extracting and processing new materials.
---
Related: The Pros and Cons of the Top 5 Selling Vacuum Cleaners?
---
How to Make Your Vacuum Cleaner Last Longer
A vacuum cleaner is a useful device that can help you keep your home clean and dust-free. However, it can also wear out over time and lose its efficiency. To prevent this, you need to take good care of your vacuum cleaner and maintain it regularly. Here are some of the things you can do to extend the life of your vacuum cleaner:
Clean the Filters and Replace Them When Needed
The filters are the parts that trap the dust and dirt from the air and prevent them from entering the motor or being released back into the room. If the filters are clogged or dirty, they can reduce the suction power and damage the motor.
Therefore, you should clean the filters regularly, at least once a month, by shaking them off, rinsing them with water, or using a brush to remove the dust. You should also replace the filters when they are worn out or damaged, usually every 6 to 12 months.
Empty the Dust Bag or Bin Frequently
The dust bag or bin is the part that collects the dust and dirt from the floor. If the dust bag or bin is too full, it can reduce the airflow and suction power of the vacuum cleaner. It can also cause the dust to spill out or leak into the motor.
Therefore, you should empty the dust bag or bin frequently, preferably after every use or when it reaches 2/3 of its capacity. You should also replace the dust bag when it is torn or damaged, usually every 3 to 6 months.
Check and Clean the Brushes and Belts Regularly
The brushes and belts are the parts that rotate and move the vacuum cleaner across the floor. They can help you remove dirt and debris from different surfaces, such as carpets, rugs, or hardwood floors. However, they can also get tangled with hair, strings, or other objects that can affect their performance and cause them to break.
Therefore, you should check and clean the brushes and belts regularly, at least once a month, by removing any obstructions, cutting off any hair or strings, or using scissors or a knife to free them. You should also replace the brushes and belts when they are worn out or damaged, usually every 12 to 18 months.
Store Your Vacuum Cleaner Properly
The way you store your vacuum cleaner can also affect its lifespan and functionality. You should store your vacuum cleaner in a cool and dry place, away from direct sunlight, heat sources, or moisture. You should also wrap up the cord neatly and avoid bending or twisting it. You should also detach any attachments or accessories that you are not using and store them separately in a bag or a box.
Conclusion
Properly disposing of a vacuum cleaner is crucial to protect the environment and prevent potential health hazards. By checking for hazardous materials, understanding the different classes of vacuum cleaners, and following the appropriate disposal methods, you can ensure a safe and responsible disposal process. Remember to always prioritize the well-being of the environment and your community when getting rid of old appliances.