Welcome to our blog! Today, we want to talk about a common issue that many homeowners face – basement flooding. While it may seem like a minor inconvenience, basement flooding can actually cause significant damage to your property and pose health risks.
In this post, we will explore the common causes of basement flooding and provide you with some practical tips to prevent it. So, let's dive in and keep your basement dry!
The Role of Poor Drainage
Poor drainage is one of the leading causes of basement flooding. When your property lacks proper grading, rainwater, and snowmelt can accumulate around your foundation. Over time, this water will find its way into your basement, causing flooding.
Additionally, clogged or malfunctioning gutters and downspouts can contribute to poor drainage by redirecting water toward your foundation instead of away from it.
To prevent basement flooding due to poor drainage, consider the following:
Ensure your gutters and downspouts are clean and properly functioning. Regularly inspect and clean them to avoid blockages.
Install extensions on your downspouts to direct water at least three to four feet away from your foundation.
Check the grading around your property. If you notice any areas where water pools near your foundation, consider regrading or adding soil to improve the slope.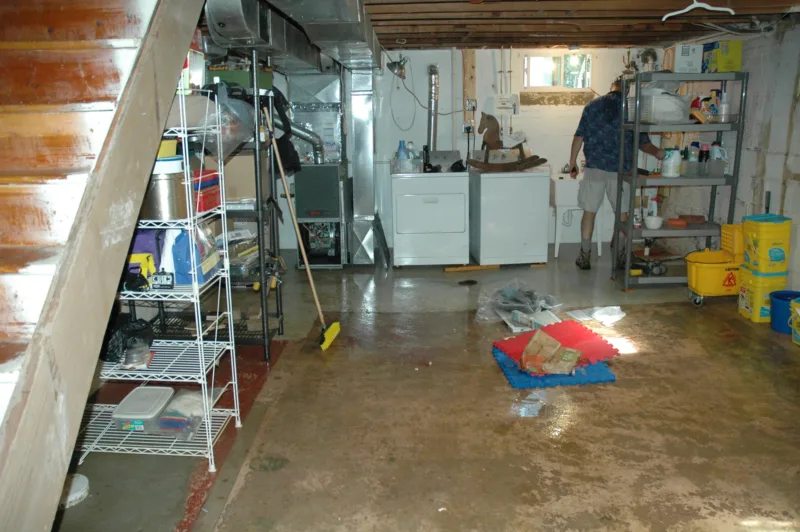 The Impact of Cracks and Leaks
Another common cause of basement flooding is cracks and leaks in your foundation walls. Over time, these cracks can widen, allowing water to seep into your basement during heavy rains or when the water table rises. Additionally, faulty or deteriorated waterproofing membranes can contribute to water intrusion.
To safeguard your basement against cracks and leaks, follow these tips:
Regularly inspect your foundation walls for any signs of cracks or leaks. If you spot any, promptly seal them using a high-quality waterproofing material.
Consider applying a waterproofing membrane to your foundation walls. This extra layer of protection can be especially beneficial if you live in an area prone to heavy rainfall.
Invest in a reliable sump pump system. Sump pumps can help remove excess water from your basement, reducing the risk of flooding.
---
Related: 
---
Be Mindful of Sewer Backups
Sewer backups are an unpleasant and potentially hazardous cause of basement flooding. When your municipal sewer system becomes overwhelmed with excess water, it can result in sewage backup. This backup can force contaminated water into your basement, creating a significant health hazard.
Here's how you can protect your basement from sewer backups:
Install a backwater valve on your sewer line. This valve allows water to flow out of your home but prevents it from backing up into your basement.
Avoid pouring fats, oils, or grease down your drains. These substances can lead to clogs, increasing the risk of sewer backups.
Regularly maintain your sewer line by having it inspected and cleaned by professionals. This proactive approach can prevent blockages and maintain the proper functioning of your sewer system.
Conclusion
Basement flooding is a preventable issue that can save you from costly repairs and potential health risks. By addressing poor drainage, cracks and leaks, and sewer backups, you can keep your basement dry and safe. Remember to stay vigilant and take proactive measures to protect your basement.
If you need assistance with basement waterproofing or have any questions, feel free to reach out to our team. We're here to help!