Staining furniture brings out the beauty of the wood without covering up the grain. Wood staining is an inexpensive way to refinish and reuse furniture.
How to Stain Wood Furniture: Staining Already Stained Wood
Old wood furniture can often be refinished and refurbished, extending the life of the furniture and saving money on the purchase of new furniture. Wood stain comes in a wide variety of colors and finishes, making it possible to match or complement many decors and color schemes.
Inspect the furniture you plan to refinish to determine its composition. If it is solid wood, it is a prime candidate for staining. Laminate or faux wood furniture can't be refinished, and is better primed and painted instead.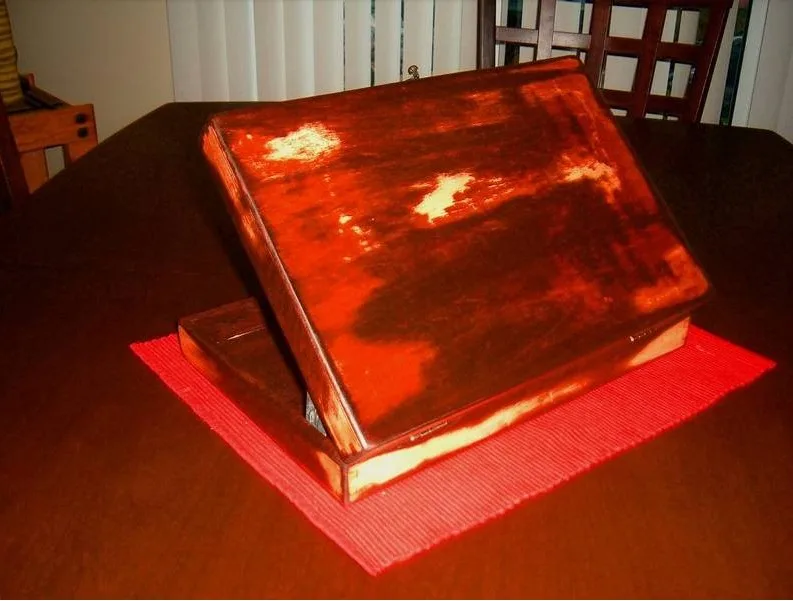 ---
---
Stripping Stain From Furniture
If it has been finished before, you must strip the old stain before adding your own. Put the furniture on a drop cloth. Use a chemical stripper and metal scraper to remove the old finish.
Choose a varnish remover that is specifically formulated for hardwood. Some chemical strippers are designed for use on metal or tile and will cause damage if used on wood.
Apply the varnish remover and wait for it to process. Wipe it off with a clean cloth, scraping where necessary. Wipe down the wood with a damp sponge or cloth.
Sanding Wood Before Staining
Sand the wood lightly, moving with the grain. Begin with coarse sandpaper, sanding the entire surface of the wood. Switch to a finer grit and sand all surfaces again. Use fine-grit sandpaper or steel wool for small details and crevices. Be sure to remove all rough edges and remnants of old paint or stain.
An electric sander is a good option for large pieces of furniture, particularly those with many flat surfaces such as tables and bookcases. Fine detail work requires sanding by hand.
Applying Wood Stain to Furniture
Using a paintbrush, apply stain to the wood with even strokes, wiping the excess with a rag. When all the wood is stained, allow it to dry completely. Apply a second coat of stain if needed and allow it to dry. Sand the stained wood lightly with a fine-grit sandpaper. Dust with a damp cloth.
Brush on polyurethane varnish to seal and protect the wood. Allow drying completely. For a shinier, more resilient surface, add extra coats of polyurethane, letting furniture dry for 24 hours between coats.
Safety Precautions While Refinishing Furniture
Work in a well-ventilated area and wear protective gloves and eyewear to avoid injury or damage from chemical inhalation. If you use a spray varnish or top coat, wear a protective mask as well.
Many products used in furniture refinishing are flammable; never use them around an open flame or spark. Store all chemicals and equipment out of the reach of children.
Resources