Think about the first time you moved out on your own. And you stood in the little apartment you found, and looked around at all the blank, white walls and said to yourself "I'm going to put my stamp on this place, and make it mine!" Well, that's what this is here to help you with. At least, the bedroom anyway. We'll be going over 6 super cute, and super fun decor ideas for your personal space!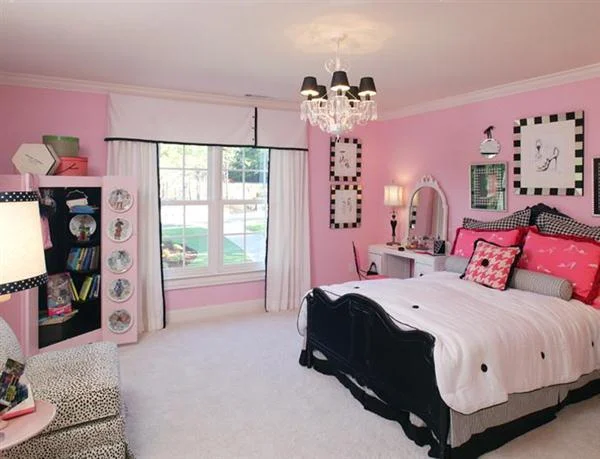 Go Neon!
One of this season's newest Fashion trends this season is going neon. Everything is in bright pink and highlighter yellows. It's a bright new way to express yourself, and I for one cannot be happier! It's super easy to achieve too. Here are some decorating tips for a Neon Sanctuary:
Paint Colors – Benjamin Moore Paint: Spring Azalea 2077-40/ Sunburst 2023-40/ Snow Cone Green 2026-30/ Cool Aqua 2056-50
For the walls, use neon paint (the colors listed above are great colors) and splatter colors onto the walls. Dip the paintbrush into the paint, so there's plenty on the brush, and swing the paint onto the walls. It's super fun and gives the room a great neon-y feel.
Plus, you and your friends would be able to do this by yourselves! Just make sure you cover everything before you get to work! If you don't want all the walls that crazy splatter, that's totally okay. You can do one or two walls (opposite each other) and use them as accent walls.
As for decorating, you can find neon paintings and wall decor just about anywhere nowadays. And remember, if you find something you love, but it's just not the color you want, paint it! When in doubt, paint. That's always been my motto.
Find pictures of celebrities that have been photoshopped to look neon, like the Andy Warhol paintings of Marylin Monroe. Use big multicolored orb pendant lights for lighting.
For the window drapes, go to the hobby lobby (or your local arts and crafts store) and find bright neon fabric and sew some drapes. It's easier than you think trust me.
Then, for bedding, you can use a soft color for the comforter/duvet on the top of the bed and accent it with bright colors and funky pillows. Faux Fur Shag and Funky Patterns! Think like a houndstooth, or even a plain white comforter/duvet.
Lazy Days…
Some girls love the soft, relaxing feel of pastels in the bedroom. Especially when living with others that, let's face it, might make your head spin from time to time. So they turn their bedroom into a nice little getaway!
Paint Colors: Benjamin Moore: Icy Moon Drops 2056-70/ Victorian Trim 2068-50/ Pretty Pink 2077-50
For a nice, relaxed feel, try not to paint all the walls a certain color. Use one wall as an accent wall, and paint it the color that best relaxes you. Then, with the other colors, stencil different designs onto the white. This way they pop out, and they also have a free, cute feel to everything.
You can even stencil a lyric, a poem, or a saying that is relaxing to you. You can get creative and have your own personalized (different websites allow that), or you can do traditional sayings.
Wall Decor can be very easy. Less is More for a relaxed feel. Think whites, soft florals, and even some nature shots would be lovely. You can find fabulous paintings and photos at your local HomeGoods, Hobby Lobby, or Pier 1 Imports; Anywhere that sells paintings.
You can even find things offline that you love and send them to Walgreens or CVS Pharmacy, where they print out pictures you email to them. Most times it's super cheap, and this way you can have pictures you love and actually have pictures, and not just papers in frames.
For lighting, use table lamps, or one chandelier with soft lighting. No high-wattage bulbs, or anything that makes the room too bright. Especially if you have a room with lots of windows, use that natural lighting to have a more relaxed feel.
The bedding should be very calm. Think relaxing pastel colors, whites, or ivories. Big, fluffy comforters/duvets with large fluffy filling. Also, use lots of pillows. This way when you walk into the room, you just want to fall into the bed. Don't get a large bed frame either.
Nothing you have to climb into. Something low to the ground, very easily accessible.
---
---
Sophisticated Glam
For all you working women out there, who are independent and classy: I applaud you! You are what I like to call, the Sophisticated Glam Girl. You own your own house and your own car. You go out, and never have to worry about the bill.
You wear pencil skirts to work, and heels are your relaxing shoes. You have a house that reflects your superior lifestyle, it only seems appropriate that your bedroom does the same!
Paint Colors: Benjamin Moore: Purple Lotus 2072-30/ Collingwood OC-28
Painting walls in a room like this is simple, yet difficult. Use purple as your main color on the walls, and trim the room in off-white; Classy, glamorous, and also colorful. Then, buy shelves and paint them an off-white color, so you can put picture frames up and different books.
Also, look into black and white pictures of major cities and enlarge them, so they can be the focal point of the walls. You can use silver accents, and big rhinestones as accents as well.
As for Furniture, you can find fabulous ottomans and vanities at any furniture store, or even your local Home Goods or Pier 1 Imports. A Glass/Mirrored vanity is a fabulous and glamorous addition to the room.
Use a large, grand chandelier in the middle of the ceiling for light. Something in a 'crystal' (you can find fake crystal chandeliers almost anywhere) or even silver. Something large and ornate would set the room off nicely, and every glamorous girl needs a glamorous chandelier somewhere in her home, if not in every room!
As for bedding, use a dark, hard color, to set the rest of the room off to perfection. Black bedding would be perfect! Then get black and white and purple accent pillows and throws, so you can still incorporate the rest of the room into the bedding.
If you can find some city skyline fabric or urban-themed fabric, you can make your own pillowcases! Hobby Lobby should have some.
Country Chic
Everyone has a little country bone in them somewhere. Some are just more in tune with it than others. For all you city dwellers that dream of someday meeting your cowboy and riding out into the sunset together, I have not skipped over you yet!
Paint Colors: Benjamin Moore: Black Horizon 2132-30 and Yellow Highlighter 2021-40
My Suggestion for painting a room with this theme in mind, is to use black color as your accent color, have one or two walls opposite each other painted black, and then use yellow on the other walls.
If you don't want to paint the entire room, that's fine, use these colors to paint the accents in the room. Paint the picture frames in your room yellow, and use black to paint the bed frame and other furniture in the room. Mix it up any way you want!
Since you are trying to achieve a country theme, think like a southern belle. Ruffles, Bouquets, and Elaborately carved decor is always fabulous idea.
Channel your inner Scarlett O'Hara! You can buy chandelier wall decals to use on the walls in your bedroom, and buy floral/nature pictures and paintings. Try finding a southern plantation picture and have that be the picture above the bed.
Bedding for a country chic room is fairly simple. Big floral prints in a solid dark color are the way to go. Try looking at places like JCPenney or Pottery Barn. Use white decorative pillows and white floral decorative pillows to have the bedding stand out a little more.
Hello Sailor!
I know what you're thinking, "Seriously, a nautical theme? Been there done that.." And yes, it has been done to death. But let's face it, it has never been done like this!
Paint Colors: Benjamin Moore: Twilight Blue 2067-30 and Watermelon Red 2087-20
When painting the room, make sure you keep white as the primary color and accent it with red and blue. You can go multiple ways with this theme. One way to go is to use the blue and the red as thick vertical stripes on one wall in the room, for your accent wall, and use the blue and red in stencils on the other walls.
Another way is to paint one whole wall red, and one whole wall blue, and have them opposite each other.
There are many more ways, but I personally, like the first way. Have the striped wall be the wall your bed is on. Then on the opposite wall, use blue to stencil a large anchor and rope and red to stencil a nautical saying from a book or a movie.
Then the other walls, paint shelves in alternating colors red and blue, hang them up and use the red and blue to accent picture frames and such.
Wall Decor, can be a little harder. As I've stated earlier, stencils work fabulously in this room. Don't be afraid of gold either. In fact, gold in a nautical room gives it pizazz and makes the room pop! Think Gold Stars, and Gold Ship Wheels.
You can find a ton of really cute Gold anchor/nautical-themed wall decor almost anywhere. But I would stay within Hobby Lobby, and HomeGoods, and scour the web.
Bedding can be tricky. You don't want the traditional, boring, navy blue and white striped bedding. So try to find something in brighter blue and white, and think of big nautical designs!
Cottage Couture
The Shabby Chic look is very in this year. In fact, the Shabby Chic look has been very popular for the past few years. It's one of the most simple, but most beautiful themes anyone can do. It's as if a southern belle met and fell in love with a minimalist and BANG! You have Shabby Chic. Since I'm more into prints, this is my take on the shabby chic look.
Paint Colors: Benjamin Moore: Blush Tone 2000-50/ Blue Seafoam 2056-60/ Cedar Green 2034-40
When going for a shabby chic theme for any room, never paint the entire room any color. Use paint for the stencils you use, or even for the trim around the room. Keep white as the main color. Use a stencil saying above the bed, anyone you choose.
Then, buy different-sized, scroll-carved picture frames and paint them one of the colors mentioned above. You can use those as a focal point in the room too. Paint the bed frame green, use blue for the trim along the room and windows, and use pink for the picture frames and shelving.
Wall decor: You'll already have a lot happening on the walls, so keep it simple. Use the Picture frame idea, buy different-sized mirrors (ones without frames) and hang them in a cluster in a corner of the room, almost like a web.
Find bird cage/bird wall decals, and use those throughout the room as well. To Give everything a rustic feel, sand the wooden things down just enough for them to look worn in.
Bedding: Most people use white bedding and colorful pillows, but as I said before, I'm a colorful print kinda girl. Use floral, pastel solids, or something cute and flirty but still fun and rustic.
Go Get Started!
So there you have it, just a few ideas and designs to get you started! Have fun and good luck!