Can't put the car in the garage anymore? Some great garage storage ideas for garage ceiling and wall storage will help.
Garage Storage Ideas for the Overloaded Garage
While many people have a garage it seems that few of them actually park their car in it. The garage all too often turns into a massive pile of toys and seldom-used things that completely block access to cars.
A few good garage storage ideas can turn that around and once more make the garage a place to park the car out of the rain, snow, and ice. Stop scraping the windshield each morning and stay dry and comfortable getting into your car.
There are a wide variety of garage storage ideas for everyone, ranging from ceiling storage shelves to wall racks to cabinets. Surely there is something there that will fit your needs!
Garage Ceiling Storage Ideas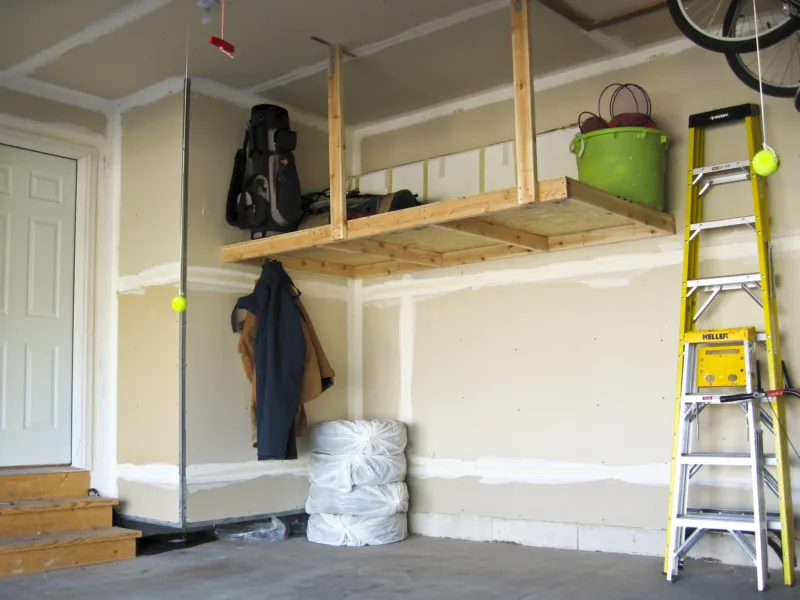 Most garages have a mostly uninterrupted ceiling space that can be used for storage with a little ingenuity. The space over cars is available, and with the car in the garage where it belongs headroom is not a problem.
Ceiling storage is not very practical in the area used by the garage door when it is up (that space is generally too small to be of much value) but the rest of the area above parked cars is available and useful.
Shelving can be constructed of many materials – one of the most popular is a steel grate that allows items to be seen from underneath it. Hyloft has an excellent solution for garage ceiling storage with its overhead storage system.
These are either 3′ by 3′ or 45″ by 45″ grates with "legs" to attach them to the ceiling. The legs are adjustable from 16 to 28 inches so that different ceiling heights can be accommodated. Holding up to 150 pounds, they are simple to install in about 15 minutes.
Additional units can be hung so that a single long shelf or perhaps an L-shaped shelf can be made. They are a great way to store empty suitcases, Christmas lights, or other relatively lightweight items.
Garage Wall Storage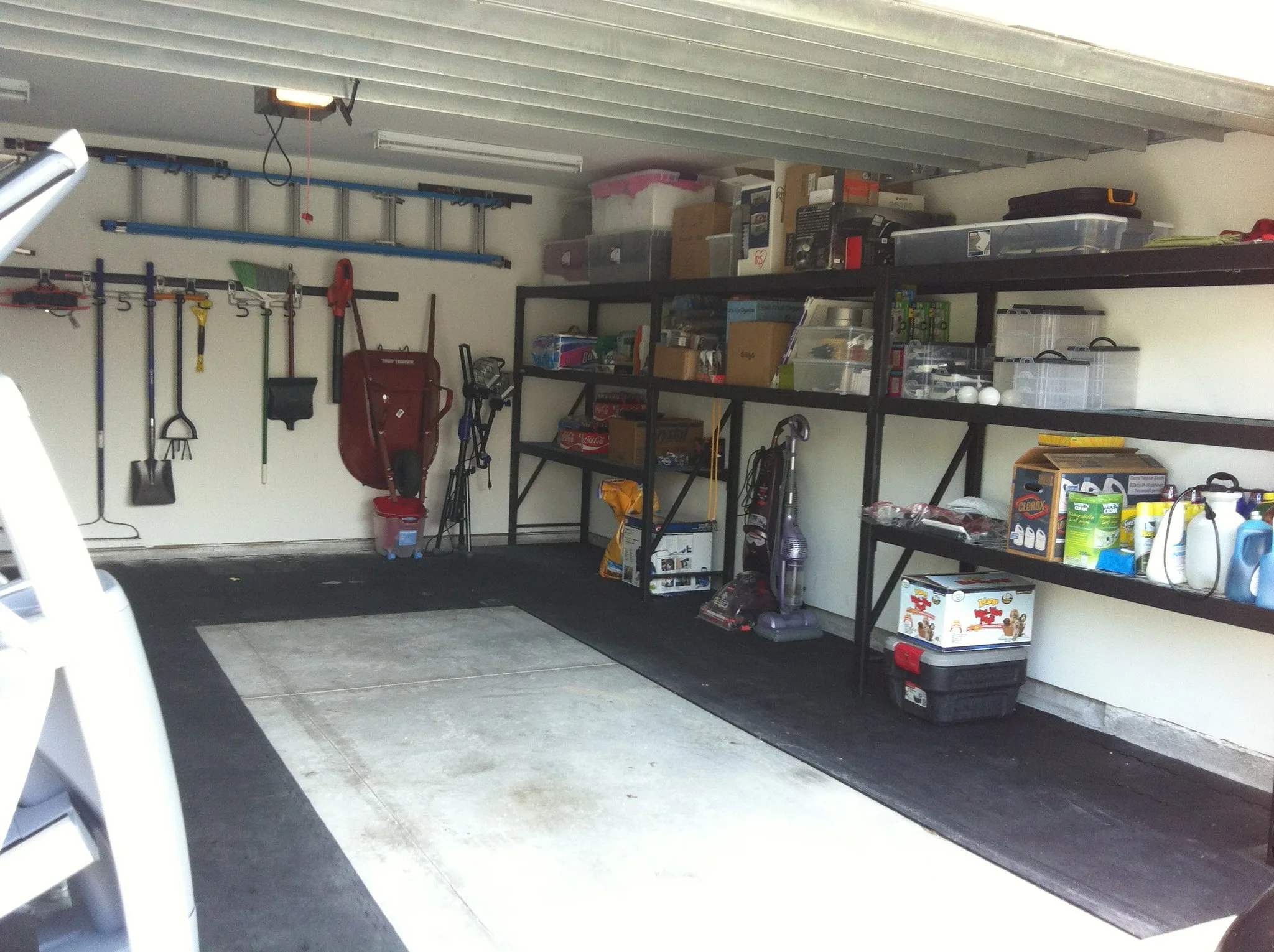 There are many garage storage ideas for use on empty walls as well. If your garage is also the handyman work room a tool storage cabinet might be in order. These can range from a simple pegboard cabinet to an elaborate workbench with several cabinets.
Few homeowners can afford the garage space for an entire workbench, but most have a little extra wall space that could be used to store a common homeowner tool set.
One of the simpler solutions is a piece of pegboard attached to the wall with a good set of hooks for it. Small items, garden tools, and containers of nuts, bolts, and screws can be stored this way and the cost is quite reasonable.
Large hooks may be attached directly to the wall for hanging large items such as bicycles and other sports gear. These hooks are often specifically designed for bicycles or other items but are also available simply as a large hooks for heavier things.
Wall cabinets are always a possibility, and come in a huge variety of styles, shapes, and sizes. They are especially useful for storing things such as paint, thinner, and other semi-hazardous materials as some metal cabinets are available that will provide some protection and are lockable. Fire-rated cabinets are also available but are quite expensive.
Garage Floor Storage Ideas
Cabinetry is the key here, with so many types of cabinets available it would be impossible to look at even half of them.
A few specialty cabinets may deserve attention, such as a golf club storage solution. There are a lot of golfers forced to store their clubs in the garage and this nifty cabinet gives a perfect solution.
Winter (or summer) clothing might be stored in taller cabinets and kept clean and neat without using a large portion of the garage in doing so.
Roll-around cabinets are extremely useful for the handyman and the garage is a perfect place to keep such cabinets as it is dry and relatively clean.
A cabinet of smaller parts bins might be useful for the handyman or craftsman of the home.
Additional storage is always welcome and garage storage is possibly the easiest to utilize. Hopefully, these ideas will bring forth your own thoughts and thus be of some value. Good luck cleaning out the garage!