When planning to make a desert garden planter, you need to consider where you want to put the planter, and whether you want to have cacti or succulents in the planter, as they should not be mixed. TimewornLit.com suggests some great species to grow in your desert garden.
How to Make Desert Garden Planters That Will Thrive
Desert gardens are made up of cacti or succulents. Large plants are planted alone while smaller plants are often grouped together. Cacti and succulents cannot be planted together because they have different water needs.
In places where gardening space is limited or conditions are such that full-scale gardening is difficult, a great way to be able to enjoy the ambiance of a garden is by creating a desert garden on your deck or patio.
A desert garden is essentially a miniature garden or landscape composed of cacti or succulents. The choice of plants and the size of containers will be dictated by the size of the area, the weather conditions, and whether they are accent pieces for side tables, corners of the deck, or patio, or whether they will be centerpieces on a dining table.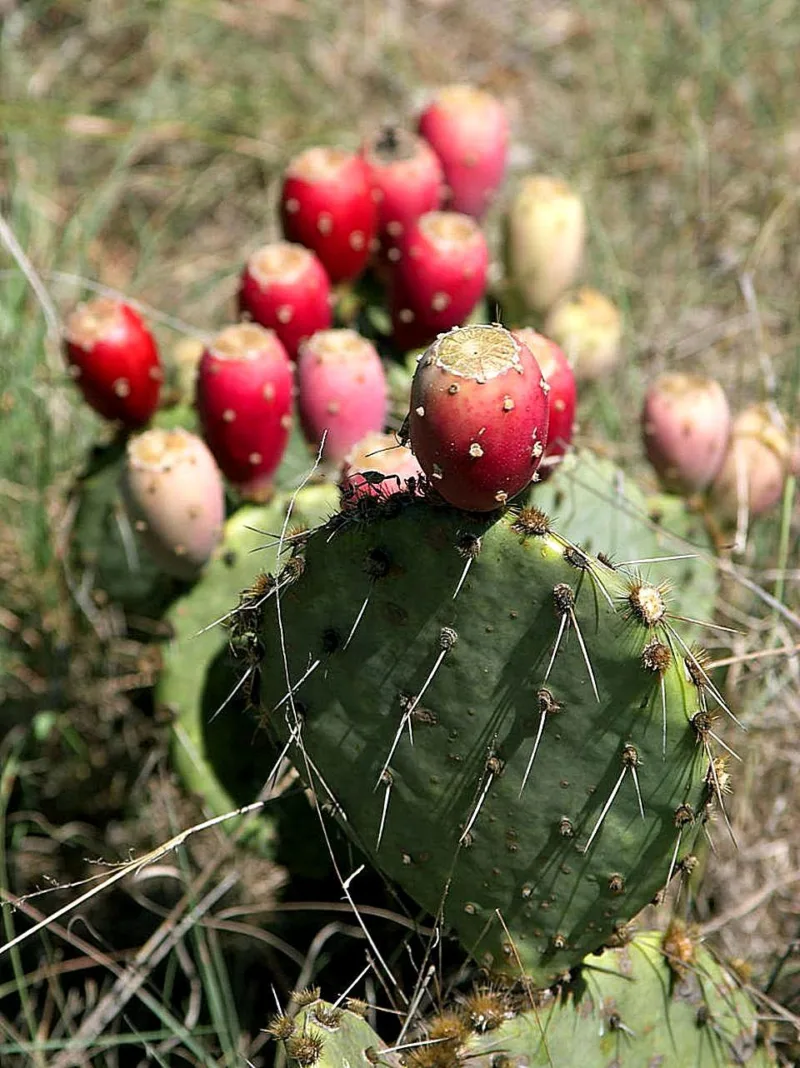 Containers
Choose containers that are large enough to accommodate multiple plants if you want to create a container garden. For larger plants, it may be best to plant them alone. Cacti and succulents often have shallow roots, and for this reason, shallow dish-like containers are the ideal choice.
Desert plants will not survive if the soil cannot dry out sufficiently, so make sure that the dish or pot has holes for drainage. Broken pot shards or gravel are sometimes placed in the bottom of dishes to aid in drainage.
Planting Medium
Garden centers sell specially blended potting mixes. These mixes contain soil amendments that aid in drainage, and aeration and prevent plant roots from sitting in soggy soil. If cactus potting mixes aren't available, create your own planting medium by using two parts of sand and one part of peat moss.
Add this to a good container or potting soil mix and mix the ingredients together thoroughly. This ensures adequate soil aeration and even distribution of water.
Fill containers with the growing medium, leaving at least 1/4 inch at the top. For larger containers, it is advisable to leave more space at the top. Fill this last 1/4 inch or more with sand or pebbles. This will protect the leaves and stems from getting wet, something that can lead to rotting.
Growing Conditions
Succulents that are grown outdoors need full sun during the period from late spring to early fall, if not longer. This is necessary so that water from potentially heavy rainfall can evaporate quickly enough.
In especially hot and dry places, some succulents will need dappled sun or protection from the hottest afternoon sun. Some succulents develop a reddish-brownish pigmentation (some aloe and stapelia varieties,) from excessive sun exposure, indicating they need more shade.
Arranging Plants
When arranging plants in your planter, think about their placement. This determines how plants are arranged in the container. A garden that is seen from all sides needs to have large plants in the center and smaller plants surrounding the larger plants.
If one side is all that is seen, larger plants belong in the back and smaller plants belong in the front. Arrange different sizes so that the smallest plants are in front.
Cacti versus Succulents
Both cacti and succulents store water in their leaves, roots, and stems. They are ideal for hot, dry climates. Succulents require more water than cacti, so they shouldn't be planted in the same container.
Some cacti or succulents may need protection from extremely hot temperatures because the leaves tend to burn. This is the case with certain varieties of aloe.
---
---
Pink Flowers of Cactus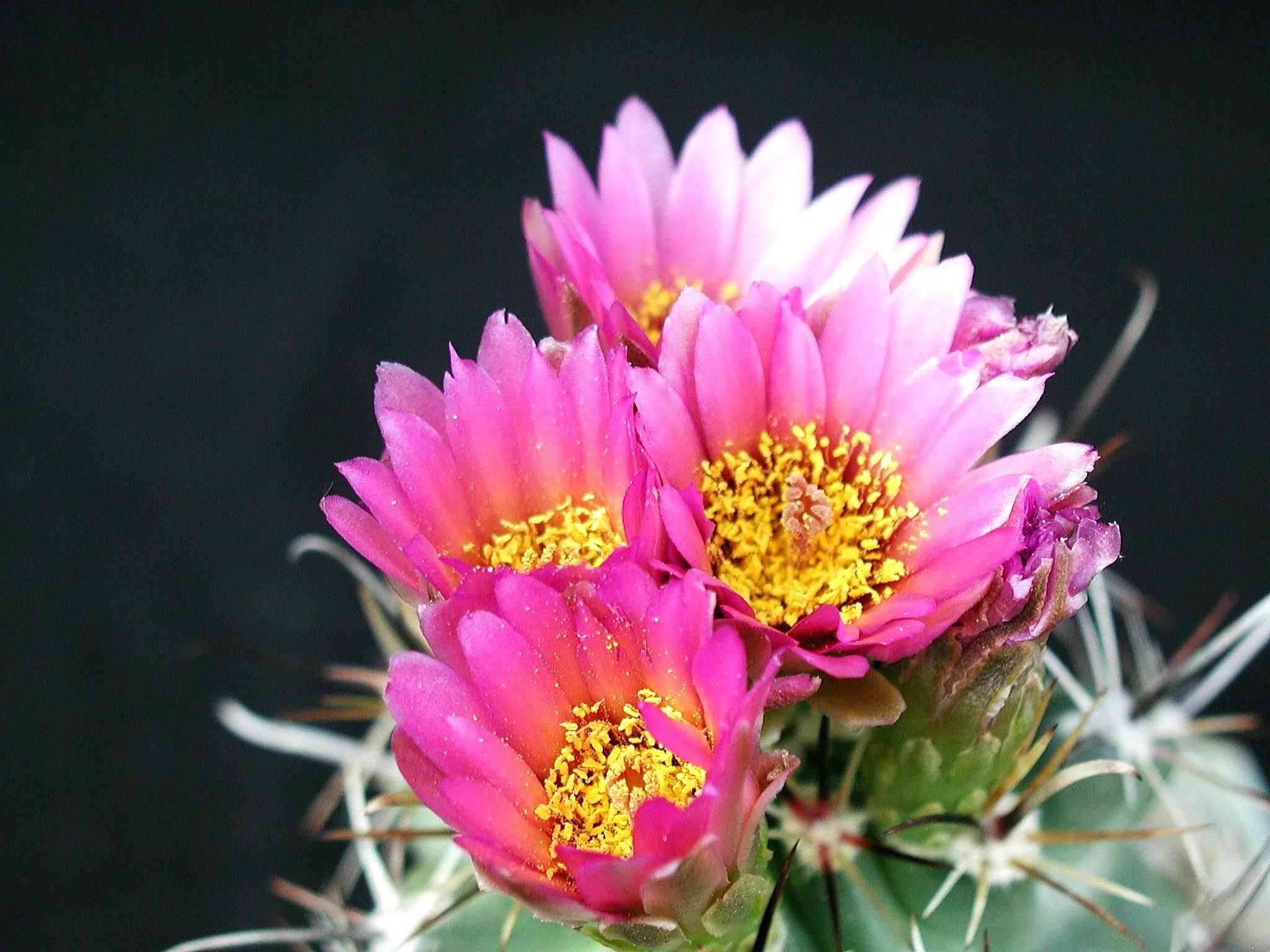 Choosing Plants
Some plants that are suitable for container growing have the potential to grow very large and do so when grown in the wild. Some of these plants are ideal for use as accents in corners of a deck or patio, or to create barriers.
Century Plant
Agave americana or Century Plant is a member of the Agavaceae family and is best suited to extremely large containers. This succulent is characterized by massive, thick, pointy leaves. Although it is regarded as an evergreen plant, it typically dies after blooming, but plants don't flower until they are at least ten years old.
Flowers emerge from stalks in the center of the plant. Yellow flowers appear on the terminal end of horizontal branches. Stems on large plants can shoot up 15 to 30 feet. Although this plant is well suited to full sun, it does better in partial shade than many other succulents. In the absence of rain, it needs supplemental water about once a month.
Cow's Tongue Prickly Pear Cactus
Opuntia Lindheimeri var. "linguiformis' or Cow's Tongue Prickly Pear is a member of the Cactaceae family. It is an evergreen cactus that grows in segmented large mounts.
When grown in the ground, it has the potential to grow to 4 to 6 feet in height and spread beyond six feet in width. Leaves are large, thorny pads that taper to a point.
In spring, yellow flowers appear at the margins of the pads. Prickly pear cacti also produce an oval-shaped, plum-colored fruit.
Although it is a native of Texas, it is commonly grown elsewhere throughout the southwest. It requires full sun or the pads become floppy and leggy. This plant survives solely on rainfall, and there is no need to provide supplemental water.
New plants are propagated by pads (that are planted in the sand.) This plant is an excellent choice for a desert patio or deck garden because it requires no maintenance.
Englemann's Prickly Pear
Opuntia englemannii is a large evergreen, but segmented cactus that spreads in an upright manner. It is characterized by thick pads and funnel-shaped yellow or orangey-red flowers that grow off of the edge of the pads.
This prickly pear variety blooms from April to May. An edible egg-shaped 3-inch long fruit starts out green and turns to purple when ripe.
A native to areas of the southwestern United States and Mexico, it grows at elevations between 1,000 and 4,500 feet. Because it grows at higher elevations, it is hardy to temperatures in the low teens. It is adaptable to moist soil conditions, provided they have adequate drainage.
Unlike Cow's Tongue Prickly Pear, this variety needs water during periods of drought. It has the potential to grow to a height of 4 to 6 feet and spread to 10 or 15 feet, as it develops larger clumps.
'Fat' Plants
Caudiform and pachycaulous succulents are often referred to as 'fat' plants. Caudiform is a term that refers to the swollen caudex at the base of the stem, but it is sometimes broadened to include any plant with a swollen trunk.
Pachycaulous plants have swollen stems but no bulbous trunk base or caudex. 'Fat' plants include everything from the dwarf succulent Euphorbia obesa (or baseball plant,) to baobab (Adansonia digitata) a pachycaulous that is suitable for growth as a bonsai.
The most familiar caudiform plant that is easily found in landscape or garden centers is the Ponytail tree (Beaucarnea recurvata.) Adeniums (or Desert Roses) and pachypodiums are among the most popular caudiform container plants. Both are members of the Apocynaceae family (the plumeria or frangipani family.)
Adeniums are native to drier parts of Africa, especially east Africa whereas pachypodiums are native to Madagascar, but some species come from southern Africa.
Adeniums are fun to grow and can be grown outdoors on a deck or patio during the warmest part of the summer and brought indoors during cool or excessively rainy weather.
Flowers typically range from pale pink to rosy red. Cultivars are available in other colors, including white ('Snowbell,') and dark red ('Black Ruby'.) Thai growers are producing hybrids with both multi-colored and double flowers.
A desert garden for a deck or patio isn't difficult to create. Containers must be suitably large for plants that grow quickly or have a tendency to get large.
Arrangements of different plants are a great way to create interest and variety, as long as all of the plants have the same growing needs. Avoid planting succulents and cacti together because succulents need supplemental water, and cacti generally don't. Protect the leaves and stems of plants from water excessive wetness quickly leads to rotting.
References