There is certainly nothing more refreshing after a long, cold winter than the wondrous sight of the first blossoms of spring bursting forth from bare branches.
For homeowners who want to be the first on their block with a yard displaying showy spring colors to gardeners seeking to extend their gardening season as long as possible, everyone has a good reason to put at least one early spring flowering shrub in their landscape.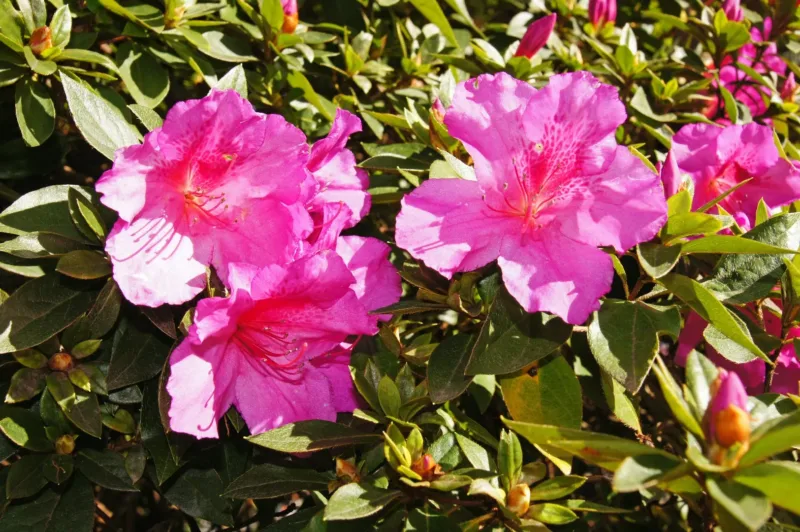 In this info sheet, we'll look at hardy northern shrubs with early blooming times. You might be surprised just how early in spring you can get shrubs to bloom in the North.
Some shrubs start blooming long before the last spring frost is past. In Zone 5, shrubs can bloom in February, while in Zone 2, there are shrubs that start blooming in March!
Did you know that many of the finest spring-blooming shrubs bloom before their leaves bud? Not surprisingly, many of these shrubs also tend to be the showiest, since the flowers don't have to compete with the leaves for attention and don't get buried by the leaves.
Give these shrubs a prominent place in the garden where they can be enjoyed in spring. Unfortunately, many of the showy spring shrubs also tend to be a little undistinguished the rest of the year, so be sure to balance them out with other trees and shrubs which steal the show at later times.
Try and find room for some of these spring beauties in your yard or garden;
Northern Gold Forsythia (Forsythia "Northern Gold")
Zone 3(2)
Forsythia is typically the first shrub to bloom with vivacious color in early spring and is very common in warmer climates.
Because its golden-yellow bell-shaped flowers are so very showy, most people associate this with the true advent of the spring gardening season. If you've ever seen one in full bloom (and you can see these from a mile away), you will no doubt agree.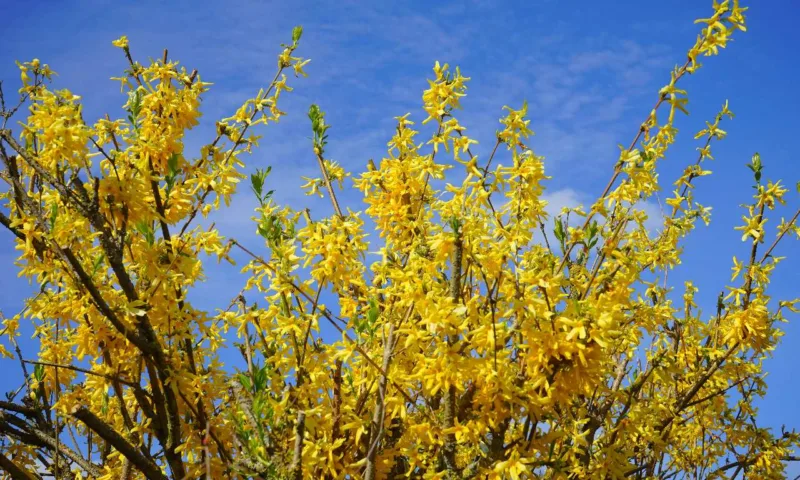 For many years, Forsythia was reserved for zones 5 and higher, because the flower buds would not reliably survive the vagaries of winter in colder regions.
Now, thanks to the development of new cultivars such as "Northern Gold", gardeners in zones 3 and 4 can count on reliable blooms every year.
This shrub is certainly worth a try in zone 2; just expect some years when the flowers won't bloom after a particularly hard winter, especially above the snow line.
One problem common to all Forsythias is that once they have finished with their gaudy performance in early spring, for the remaining 50 weeks of the year, they are quite mangy and ragged looking.
Frankly, after having seen hundreds of them, I would say they are borderline frightening when not in bloom! Take some comfort in the fact that you are not alone with this problem; even the Southerners have to deal with this.
The best way to manage Forsythias the rest of the year is to plant them in groupings of 3 or more, using them in landscape applications where groupings are most valuable; as screens, to cover large areas of ground, etc. When used in mass, their scrubby habits tend to be overlooked.
---
---
Vernal Witchhazel (Hamamelis vernalis)
Zone 5
If an early spring bloom is what you seek, and you live in zone 5 or warmer, let me strongly recommend the Vernal Witchhazel as a shrub worth considering.
Its attributes are many; it features subtle reddish-yellow strap-shaped blooms in late winter (March or often late February) which cover the branches, it has a consistently beautiful deep gold fall color, and it has an interesting spreading habit of growth.
It carries itself well the rest of the year. Furthermore, the flowers emit a hauntingly spicy fragrance that I simply can't get enough of; it has to be one of my favorite plants for fragrance.
So what's the downside? Well, there isn't one. The plant is tough and not particularly fussy about its growing conditions. Because it is a relatively tall and wide-spreading shrub, it is best used as a solitary accent, particularly effective when offset against the harsh and rigid lines of a building.
I guess my only complaint is that it is unfortunately not hard enough for zones 4 or less. I wish it was because it is a treasure for its fragrance alone. So, to all, you zone 5'ers out there in Norths land, enjoy!
Double Flowering Plum (Prunus triloba "Multiplex")
Zone 2
I am simply perplexed that this is not the single most popular spring-blooming shrub of all. It has it all; frothy bright pink flowers all along the bare branches, extreme hardiness, a controlled habit of growth, and even good fall color in some years.
It does tend to fade into the background when not in bloom, but gracefully, as opposed to some of the other mavericks in this list.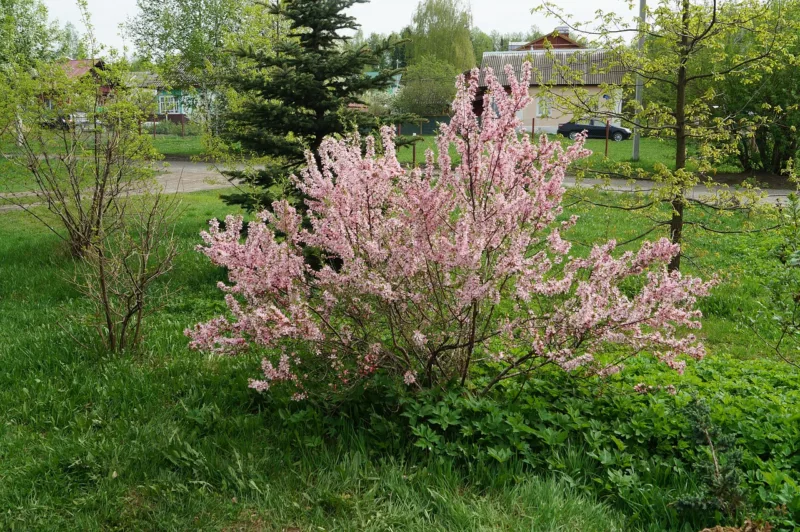 If you've ever seen one of these in bloom, particularly if used appropriately in the landscape, you will have wanted one, and I don't care what zone you're in. That's the key, though; they need to be used properly.
My advice tends to go counter to that of the "experts"; I propose that this plant is best used as a solitary, as a lone accent plant. This can be in a garden setting, but the key is, it needs all the room it can get.
This plant requires a great deal of spring sunlight to flower well, and will not tolerate even a couple of hours of shade. It also grows quite large (up to 8' tall and wide), and makes its biggest impact when mature, so allow it plenty of room.
The plant itself is extremely hardy, down to zone 2. The flower buds are not quite as reliable, being somewhat inconsistent in zone 2, and better in zone 3. No matter, when this plant succeeds, you'll be glad you have it in your landscape.
Princess Kay Plum (Prunus nigra "Princess Kay")
Zone 2
This large shrub or small tree is surprisingly uncommon in northern gardens, without a good explanation. It is best described as a small plum tree that features double white flowers in early spring before the leaves.
In a way, its flowering characteristics resemble those of a white flowering crab apple but are smaller enough in all respects to work better in most home landscape settings. It is a good size to use as a tall accent or anchor in a garden setting, mixed with other shrubs and perennials.
As an added benefit, it also features steely-black bark with prominent horizontal markings and decent fall color in most years.
This is one very hardy plant. A selected variety of the Canada Plum, it inherits the tenacious hardiness of the species, but with better ornamental characteristics.
I strongly recommend it for use in zones 2 and higher, particularly for smaller yards where the larger flowering crabs are simply too big and unwieldy.
French Pussy Willow (Salix caprea)
Zone 4(3)
Yes, pussy willows are the flowers of the female willows. You might not associate willows with showy flowering shrubs, but let me assure you when they are mature, they can put on quite a performance with their branches shrouded in a soft, fuzzy white.
Best of all, they are one of the very first plants to bloom in the North, typically starting their flowering in March with the first hints of spring warmth, long before the cold air has left us.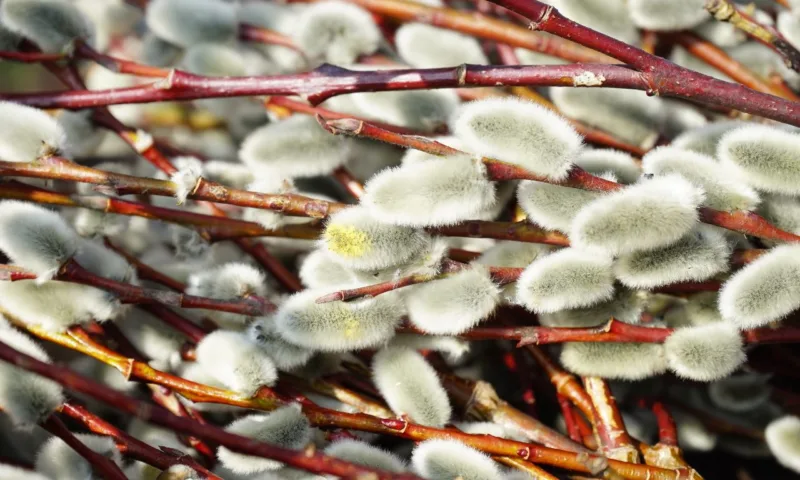 This shrub works well in the garden or as a large foundation anchor, growing 10 to 15 feet tall, often quite bushy. The best performance I ever saw from a French Pussy Willow was a plant used as a solitary accent in a front yard, contrary to what many people advise; it put on an amazing display of flowers in very early spring and stole the show.
French Pussy Willow is reliably hardy to Zone 4, but can often be grown in Zone 3 with some shelter. There is an interesting cultivar, "Pendula", which is strongly weeping and makes a stunning garden feature plant.
For those farther north, a good alternative to French Pussy Willow is the native Pussy Willow (Salix discolor), which is almost as showy and very reliable (zone 2 for certain!), although a little less "gentile".
Northern Lights Azaleas (Rhododendron "Northern Lights" series)
Zone 4(3)
Northerners simply crave azaleas for their gardens and with good reason. They are a spring staple in warmer climates, blooming in a wave of color before the leaves in late April or early May.
A mature azalea in full bloom is impossible to miss even from a distance, and they come in almost all the colors of the rainbow. As if that weren't enough, many of them are potently fragrant.
The problem for northerners has been their hardiness, or rather, their lack of it. Most "hardy" azaleas are only worth trying in zones 5 or even 6 and warmer.
Thanks to the plant developers at the University of Minnesota, we now have a complete line of azaleas that are reliably hardy to Zone 4 and are worth a try with some special winter protection into Zone 3.
They come in all colors, ranging from pink to lilac purple to white, yellow, and fiery orange, with the plants varying in height and spread from 3 to 6 feet. Based on studies from the University of Minnesota, the hardiest of the series appear to be the Northern Lights, Rosy Lights, and Orchid Lights, all of which could be tried in Zone 3.
Azaleas are a very fussy plant to grow, and in the North, you simply can't afford to give them anything less than their ideal growing conditions. They absolutely must have acidic, highly organic soil which must retain water and yet be extremely well-drained.
Anything less will cause problems, and in the North, problems in summer almost always translate to problems in winter.
To achieve these growing conditions, plant them in a mixture consisting of plenty of peat moss, some fine sand, and some organic compost, with only a little of the original soil mixed back in for good measure.
They need to be in a very well-drained location, which should be sheltered from drying winter winds. Full sun is best, but they will flower well even in partial shade.